I've been thinking lately that Goose's bibs just aren't quite fitting the bill anymore. For the most part, she's a very neat eater, but she occasionally drips and drops. We had been given a couple of the full-body bibs for when she was starting to eat, and they got me to thinking.
I made a pattern by laying out a bib and tracing around it. Instead of tracing the legs, I rounded the bottom. When I cut it out, I added some room for seam allowances.
In case you don't have a similar bib and want to give it a try, the resulting pattern is about 21.5" tall at the tallest point, 14.5" wide at the widest point, and the neck hole is about a 3.5" circle (OK, it's obviously not quite a circle, but that's what the opening measures).
I then pinned the pattern to fabric and cut it out. Most of the bibs have a plain back, but I made a few to be reversible. Please note that unless your pattern is symmetrical (which mine isn't!) you should flip the pattern over when cutting one of the pieces so the right side will be facing out if you wish to reverse it.
I didn't do this, and ended up with the wrong side of the fabric facing out. It's not the worst thing in the world, I figure. Goose doesn't care!
Initially, I wasn't going to line them with anything, because as I noted, Goose is a pretty neat eater. After making the first one and trying it out, I decided they needed something inside. I used my pattern piece to cut some flannel, but instead of making it go all the way up to the neck straps, I just cut it off about an inch under the neck. Saves fabric, and saves sewing through so many layers at the top where it's wonky enough on its own!
I made mine by stitching the flannel to the back side of the bib (on the wrong side), then sewing the back and front together with wrong sides together leaving an opening, turning right side out, pressing, then topstitching, making sure to close the turning hole. For the last bib, I think I'll just stitch the top part of the flannel to the back, then stitch all of them together.
Lastly, I added velcro to the neck tabs to hold the bib on. Here are the other bibs I made:
And here's a picture of one in action!
Linking up to: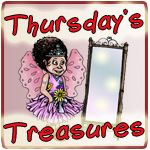 and Frugal Fridays at
Life as Mom
.